OP-ED: ACES COLOR MANAGEMENT
In the last several years the subject of color management has become a colossal issue in the visual effects community, and for two distinctly different reasons. The first is that a modern visual effects project will get images from a wide variety of cameras and sources, so how do we get all of these different images to play nice together in a shot? Secondly, how can you render photorealistic CGI for a movie when the live action clips you need to match to bounce around in different color spaces? The answer is ACES, the Academy Color Encoding Specification, that promises to unify all images into a grand unified field theory of color. Read more at ACES Color Management.

---
COLOR FOR DIGITAL ARTISTS WORKSHOP
Check out Steve's new 4-week online workshop "Color for Digital Artists" on CGSociety where you will learn all about color in the digital domain that you work with every day. Key issues such as bit depth, clipping, gamut, color temperature, compression, HDR images and much more are covered. The workshop starts on March 18th.
Each week there are assignments to turn in and get a personal video review by Steve plus you can get your color questions answered. Use any software you want to complete the assignments.
Open enrollment closes on March 22nd.
---
Coming Soon: NUKE 7 on LYNDA.COM
Version 7 is the biggest release of Nuke ever. Major new features such as Alembic support, a new image-based modeling node, normals relighting, completely rewritten Tracker and SplineWarp nodes, OpenEXR 2.0 support, a powerful new Point Cloud Generator with mesh generator, and awesome new tools for turning CG renders into a point cloud that can be viewed in 3D.
Steve's Nuke 7 New Features course will be released in March. In the meantime you can check out Steve's current Nuke courses on Lynda.com here.
---
FREE NUKE iPHONE APP
Download Steve's FREE Nuke Hotkeys app for the iPhone. Find any hotkey instantly, add to your favorites, and search by groups.
The complete list of all Nuke's hotkeys plus their definitions at your fingertips. Mastering Nuke's many hotkeys is the key to productivity in compositing with Nuke.

---
KODAK STUDENT SCHOLARSHIP PROGRAM
Each year Eastman Kodak Company and the University of Film and Video Foundation sponsor a scholarship for students attending colleges or universities offering a degree or diploma in film, film production, or cinematography. Nominations are now being accepted for consideration for the KODAK Student Scholarship Program with a cash tuition prize plus KODAK product grants. Click on the link to learn more.
---
REMOTE LEARNING WITH STEVE
You can now get unique one-on-one or group personal training from Steve anywhere in the world utilizing the latest desktop sharing technology. If you have a high-speed internet connection you can sit virtually side-by-side with Steve as he demonstrates visual effects compositing techniques on your workstation.
He has conducted such personal training in Canada, Mexico, Great Britain, Germany, France, Spain, Italy, India, Argentina, Brazil, China and across the United States on whatever topics the artist requested - compositing with log images, Nuke's unique color management, exotic 3D compositing techniques and stereoscopic compositing, or powerful bluescreen and greenscreen keying techniques. Steve has even conducted "virtual lectures" at colleges and universities such as Ringling College, Syracuse University and the Rochester Institute of Technology.
View our list of online one-on-one workshops with Steve. Visit vfxio.com to contact Steve if you would like to arrange some personal training.
---
STEVE WRIGHT'S VFXIO.COM: WHO WE ARE
Master Trainer, Steve Wright, delivers visual effects compositing, Nuke, Ocula, Mocha, Shake and 3D Conversion training to the VFX industry around the world. With curricula developed by this senior visual effects artist and Foundry Certified Nuke® Trainer with over 20 years of production experience and excellent teaching skills, these programs are designed to be very accessible and cost effective.
Steve not only teaches online and in the classroom, but he also travels to VFX facilities around the world to train the studio's VFX staff in skills & compositing techniques gleaned from those years of production experience as well as to improve the facility's 2D/3D production pipeline productivity. Visit vfxio.com today to learn about our VFX compositing training opportunities!
---
3RD EDITION NOW AVAILABLE!
The third edition of Steve's very popular Digital Compositing for Film and Video, a.k.a "The Compositor's Bible" is now available at bookstores like Barnes & Noble or on Amazon.com.
Reflecting important new trends in the visual effects compositing industry, major new sections have been added on stereo compositing, multi-pass cgi compositing, and 3D compositing. Since many compositors are strictly 2D folks, there is also a primer on 3D animation to help with key terms and concepts. Order your copy today at Amazon.com

---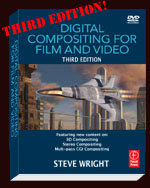 "The Compositor's Bible"
-Jeffrey Jasper
VFX Supervisor
New Deal Studios
---
Industrial Strength
Training
for
VFX Compositing
Artists!
*Nuke training
*Mocha training
*Shake training
*3D Conversion training
*VFX technique training
*VFX staff training
*Online workshops
*One-on-One workshops
*Location-based training
---
Industry Events
---
2nd Edition
NOW AVAILABLE!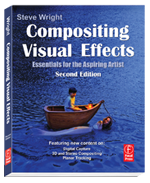 "A must have for my animation and special effects classes"
- Larry Elin
Associate Professor
Radio/TV/Film
Syracuse University
---
STEVE'S WEBINARS!

Missed any of Steve's awesome webinars...no problem! Click on an icon to purchase these On-Demand webinars!